Negros Occidental receives mobile disinfection unit from DA-WV, BAI
Posted by: RAFIS DA6 | Posted at: January 10, 2023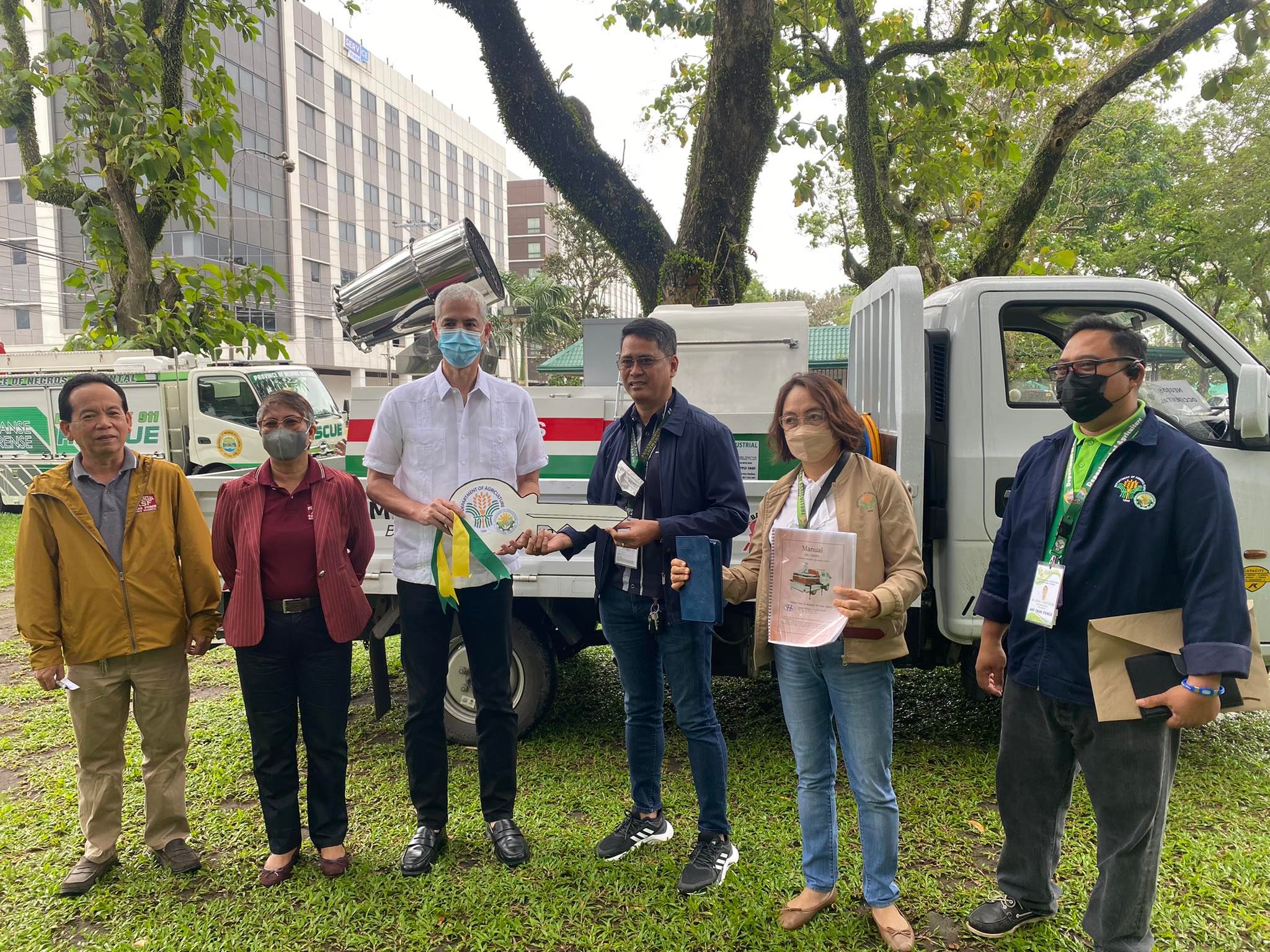 Asserting its continuous fight against the threat of African Swine Fever (ASF) to the livestock industry in the region, the Department of Agriculture (DA) Western Visayas turned over one unit of mobile disinfection unit to the Province of Negros Occidental on January 9, 2023.
This disinfection vehicle was procured by the DA- Bureau of Animal Industry (BAI) through its Quick Response Fund (QRF) and transferred to DA-WV to strengthen biosecurity measures at the border, and to initiate quick response during ASF disease events.
"Thank you very much to the Department of Agriculture for this disinfection vehicle which is vital in our battle against ASF and other animal diseases. We promised to take care of this vehicle and now I passed it to our Provincial Veterinary Office, Doc [Lemana], your office shall be maintaining this vehicle. I hope that it will be put in good use with the proper maintenance", said Eugenio Jose Lacson, Governor of Negros Occidental during the ceremonial turn over.
The provincial government shall utilize the said vehicle in the implementation of the National ASF Prevent
ion and control ("Bantay ASF sa Barangay") Program, and other animal disease prevention and control programs.
The mobile disinfection vehicle features the quickest way to disinfect larger areas and carriers which require rapid turnaround with minimum disruption to operations. This vehicle is suitable for a large range of vehicle surfaces including upholstered fittings and areas which may prove difficult to reach with conventional disinfection methods.
Neg Occ Governor Eugenio Jose Lacson, DA-WV OIC – Regional Executive Director Engr. Jose Albert A. Barrogo, OIC-Regional Technical Director for Research and Regulations Zarlina B. Cuello, Regulatory Division Chief Dr. Jonic Natividad, and Neg Occ ProVet Dr. Placeda Lemana led the turnover.
Currently, the vehicle is positioned at strategic checkpoint area, disinfected four large hog transport carriers and is ready for more.
The province of Negros
Occidental continues to be a safe (dark green) zone as to the latest ASF zoni
ng status of DA-BAI and DA-WV. Neg Occ maintains as 4th top producing province in the country with latest inventory of 488,458 heads. It contributes 42.02% to the total hog inventory in the region. ###
by Maria Corazon M. Buala/D
A-RAFIS6
Photos by: Wilmer Dela Cerna and Negros Occidental Provincial Veterinary Office