Miagao farmers set sights on recovering from onion losses last year
Posted by: RAFIS DA6 | Posted at: January 10, 2023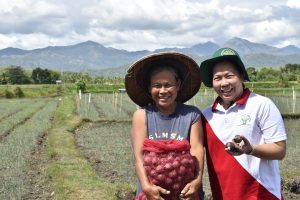 The bulb onion farmers in Miagao, Iloilo have already started planting bulb onions early this year with high hopes to bounce back from production losses they encountered in 2022 and to reach the potential yield this coming harvest season in the month of June.
During an interview in Bombo Radyo Iloilo, Miagao Onion Coordinator April Joy Depamaylo said that the onion growers in Miagao had low production of onion last year due to typhoon occurrences that damaged their onion crops that also resulted in income deficits among the farmers.
This year, with support coming from the Department of Agriculture Western Visayas (DA-WV) and the Local Government of Miagao, the onion growers aim to increase their yield to ensure enough supply of bulb onions in the country and to combat the increasing price of the commodity right now.
"This planting season, we have already distributed seeds from DA covering around 50-hectare production areas, and we also hope to extend it to 100 hectares to deliver a potential yield of 10-20 metric tons (MT) of bulb onion per hectare," said Depamaylo.
To increase the production of this crop, the DA-WV has provided several interventions such as seeds to augment farmers' expenses in acquiring farm inputs, training to equip them with additional knowledge and innovations on the latest farming technologies, and the provision of cold storage facility to store their onion harvest to extend the shelf life of bulb onions and maintain its freshness to obtain a good price for it.
Depamaylo also expressed that the DA and the LGU Miagao will together support the town's onion growers for the burdens and trials the industry is facing righ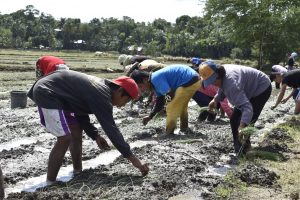 t now.
"Ginahimo gid namon a
ng tanan sa amon masarangan nga makabulig sa inyo kag makapatigayon sang mga nagakaigo nga programa para mapasanyog ang inyo palangabuhian," she stated.
Recognized as the bulb onion capital in Western Visayas, currently, the town has the largest production area for bulb onions in the province of Iloilo, with 26 barangays and more than 400 farmers producing this high-value crop. # (by Myleen S. Subang/DA-RAFIS 6 with a report from Bombo Radyo Iloilo | Photos : DA-RAFIS 6 File Photos)