Iloilo Prov'l Gov't distributes over P1.4-M cash assistance to affected hog raisers from Leganes and San Miguel
Posted by: RAFIS DA6 | Posted at: January 27, 2023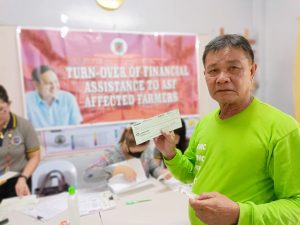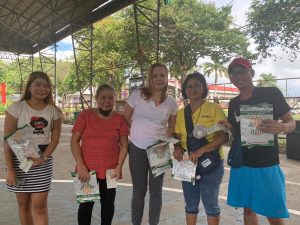 Helping more swine growers to recover from the devastation of African Swine Fever (ASF), the Provincial Government of Iloilo distributed Php 1,448,000.00 cash assistance for 133 hog raisers in Leganes and San Miguel on January 24-25, respectively.
"May naga pulaw-bugtaw, wala na sang tulog. Maayo kay we passed that stage. Nagapangayo kami sang pasensya kay wala gid natun dalayon nga napapas ang ini nga masakit, kahibalo kita, mabudlay gid ini katama sang virus, wala man kita mahimo gid, gani iminimize nalang gid natun. Sa inyo nga pagnegosyo may natural gid nga problema but we are trying our means paano kamo mabuligan", said San Miguel Municipal Mayor Marina Gorriceta.
The municipal government of San Miguel has likewise helped hog raisers through the cash assistance they have extended last December 2022 and is now boosting their goat raising industry as an alternative livelihood and to promote food menu from goat meat as part of the One Town One Product Program.
Mayor Gorriceta also announced that the Iloilo Provincial Veterinary Office had initial consultation meetings with them for the repopulation program. Local Governments are now looking into the sentineling and swine artificial insemination programs. Veterinarians from Bureau of Animal Industry (BAI) and Department of Agriculture (DA) Western Visayas shall assess and monitor areas who can start with these recovery interventions.
Meanwhile, in the municipality of Leganes, the distribution of financial assistance was led by Mayor Vicente Jaen II and Provincial Veterinarian Dr. Darel Tabuada.
Leganes recorded nine ASF affected barangays namely, MV Hechanova, Bigke, San Vicente, Nabitasan, Guinobatan, Lapayon, Cagamutan Sur, Gua-an and Guihaman.
Hog raisers also received 300 packs of vegetable seeds from DA Western Visayas ASF Taskforce.
"Kaupod ang Municipal and Provincial Vet Offices, kami sa DA Western Visayas ang nagapasalamat sa inyo cooperation. Kita nga mga nagasagud sang baboy ang magtinguha na nga makabalik kag makabangon kita, temporaryo lamang ini. Sa amun paglibot sa lugar sang mga naapektuhan nakita gid natun nga pigado ang inyo biosecurity, amu ina nga nalutsan kita sang ASF. Gani lainon natun ang atun stratehiya agud madasig kita nga makarecover, kayuhon na atun ang biosecurity. Mangin mindful kita indi lamang sa buhi nga baboy kundi pati na sa frozen kag processed pork products", said Dr. Jonic Natividad, Chief of DA-WV Regulatory Division and Focal Person for Regional ASF Task Force.
Recently, the provincial government has issued Executive Order No. 001 stipulating the Adjusted Quarantine Procedures And Disease Prevention And Control Measures Against ASF. ### By Maria Corazon M. Buala/DA-RA
Iloilo Province Veterinary Office