Fertilizer vouchers benefit over 1k San Rafael, Iloilo rice farmers
Posted by: RAFIS DA6 | Posted at: April 4, 2023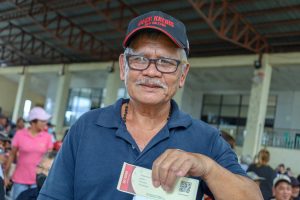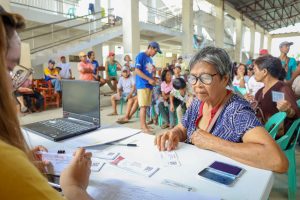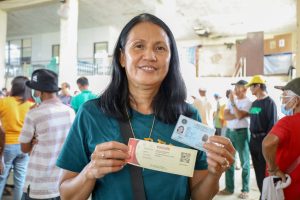 To enable rice growers to apply sufficient urea fertilizer to their crops, the Department of Agriculture (DA) Western Visayas and the Municipal Agriculture Office (MAO) held a mass distribution of P5,350,422.00-worth of Fertilizer Discount Vouchers (FDV) on February 24 in the Municipality of San Rafael, Iloilo, which served a total of 1,093 beneficiaries.
DA OIC-Regional Executive Director Jose Albert Barrogo said the intervention seeks to increase the local production in Western Visayas, the third largest palay-producing region nationwide. However, due to crop losses brought on by typhoons and insufficient fertilizer application, the region's output fell from 2.356 million metric tons in 2021 to 2.321 million in 2022.
Farmers will use the FDVs, valued at P6,600.00 per hectare, to claim urea fertilizers at 165 DA-accredited merchants regionwide this 2022-2023 dry cropping season.
Director Barrogo has cautioned farmers not to convert their fertilizer vouchers into cash because the DA will sanction dealers and recipients who violate the guidelines.
According to DA Field Operations Division OIC-Chief Ester Ruth Torreverde, although Western Visayas is 133.78 percent self-sufficient in rice, it must still increase its production volume because surplus produce is intended to be distributed to deficient areas, such as Cebu and Negros Oriental.
Fertilizer costs have skyrocketed due to the global trade disruption created by the Russia-Ukraine conflict since last year and supply limits caused by the pandemic. Torreverde stated that farmers would continue to plant despite the current high fertilizer price, but they would not be able to attain the target yield as they would resort to fertilizer underapplication.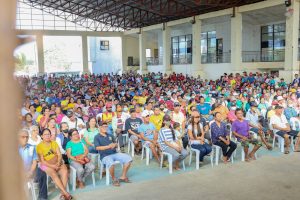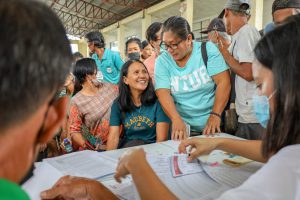 Thus, DA continues to provide input subsidies to farmers, such as seeds, fertilizer, training, and cash assistance, to improve production and yield.
She added that the fertilizer vouchers are only intended for urea since it is the major nutrient element inadequate in most rice lands.
"However, this does not imply that you will only fertilize your rice with urea. You should also apply other key elements, including phosphorus and potassium, to attain favorable production and yield," said Torreverde, who advised farmers in San Rafael, Iloilo, to use their vouchers to redeem their fertilizer subsidies not later than April 30 at the nearest merchants in Lemery and Barotac Viejo.
Farmers must present their printed fertilizer discount voucher and a valid primary ID when claiming their urea fertilizer. In the event that a farmer-beneficiary cannot directly claim and utilize the voucher due to health or emergency circumstances, a representative could claim on his behalf, provided he presents an authorization letter, the representative's ID, and the photocopy of the farmer-beneficiary's ID.
She also urged farmers to avail the DA's free soil analysis service, so they determine the recommended kind and amount of fertilizer for rice, corn, and other crops grown in the municipality based on the soil requirements.
With the funding from the DA's General Appropriations Act 2022, the 11 towns in Northern Iloilo have a total of P70,480,388.88 FDV allocation this cropping season.
Underlining the government's thrust on food security, Iloilo's 5th District Representative Raul Tupas Jr. assured DA and farmers that Congress would approve funding for interventions that benefit the agriculture and fishery sector.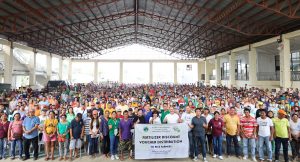 "Ang aton gobyerno ang naga-talana sang daku nga pondo para ibalik sa aton mga mangunguma bilang suporta sa ila pagtilaw sa sini nga panahon. Nagatinguha ang gobyerno nga makahatag kita sang mataas nga kalidad sang binhi kag abono para magtaas ang aton panubason," said Rep. Tupas who thanked the DA for granting state-of-the art rice mill and rice combine harvester to San Rafael.
Also present in the FDV distribution were Iloilo 5th District Provincial Board Member Binky April Tupas, Mayor Roberto Belleza Jr., and Municipal Agriculturist Richard Torreverde.
On the other hand, Director Barrogo discussed with the local officials and presidents of the 18 farmers' associations the possible interventions from DA to increase the irrigated areas in San Rafael, which will eventually translate to improved palay production volume and yield. ###By Sheila Mae H. Toreno/DA-RAFIS 6