DA Western Visayas KADIWA joins Panaet Tarambayaw Sambayang Festival Agro Fair 2023
Posted by: RAFIS DA6 | Posted at: April 4, 2023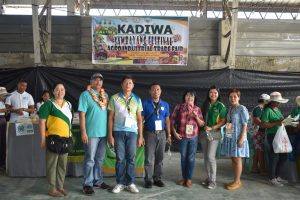 "Dako giud ang amon kalipay kay natalupangdan man ang municipality of Tobias Fornier paagi sa sini nga kahiwatan. Ang ini nga selebrasyon isa ka pamaagi nga mapakita man ang duna nga kultura sa amon banwa kag makatib-ong sang mga produkto sang aton mga lokal nga mangunguma kag mangingisda paagi sa paghiwat sang Agro-Industrial Fair nga ginpasakopan sang aton mga young farmers and rural improvement clubs, vegetable growers, and farmers and fisherfolk associations," said Renecito Labnao, Municipal Agriculturist during the opening program of Sambayang Festival in Tobias Fornier, Antique on February 23-26, 2023.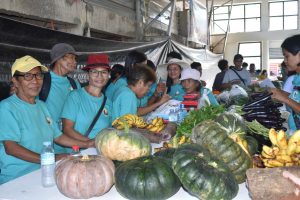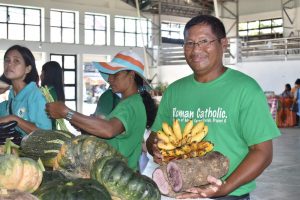 The week long celebration of Sambayang festival created an array of activities which started from a parade of beauties of festival queens and decorated floats wherein local folks depicted their bountiful resources.
Meanwhile the DA-WV KADIWA ni Ani at Kita a marketing initiative program through the Agribusiness and Marketing Assistance Division (AMAD) featured the farmers' produce through their different booths. Exhibitors who joined are the following : 4-H Club Tobias Fornier, Dairy Cattle Farmers Association, RIC headed by Ma. Jessette Salazar with featured products such as (carrot cake, squash muffins, cucumber muffins, sweet kamote delight and squash puto), Tobias Fornier Large Scale Farmers Association (vegetable products), Tobias Fornier Farmers Federation (vegetables), DAO Overseas Workers Association Inc. headed by Celina Ningas with products such as (Peanut Butter, Bandi, Kamias Jam, Tumeric Tea, Charoal briquette, sinamak and muscovado sugar), Diclum Buri Handicraft Association Inc. ( buri bags, wallet and native products), Concepcion Ledesma Casenyas Memorial School Fresh Vegetables and Riverside Garden Tobias Fornier.
" The municipality is known for their native varieties of peanuts that is processed for peanut butter, peanut candies (bandi) and other value adding products. Squash is also one of the ingredients for cakes and pastries, as well as cassava and sweet potatoes made as chips for snacks. Dairy Cattle farmers also processed carabao's milk with added flavor like, ube, strawberry, chocolate and melon for a flavorful and healthy drink, these are among the various products that we are proud of and wanted to promote to be known in the province and throughout the region" added Labindao.
On the otherhand the DA – Regional Agriculture Fishery and Information Section (RAFIS) , distributed different Information Education and Communication (IEC) materials and production guide for the farmers, guests and participants of Sambayang Festival in Tobias Fornier.
The DA WV is fully supportive of the agro fair with the attendance of APCO Sonnie Guanco, Leah Veloso and Ana Marie Himatay of AMAD, Betty Baldevia of OPA, Vice Mayor Jose Maria Fornier and Hon. Ernesto Tajanlangit Municipal Mayor. ### Joan N. Capaciete/DA-RAFIS 6