DA, prov'l stakeholders firm up PAFES outputs for Antique, Iloilo
Posted by: RAFIS DA6 | Posted at: April 4, 2023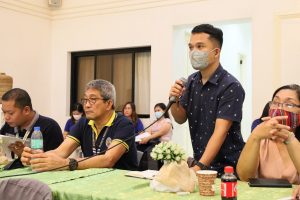 The Department of Agriculture (DA), Provincial Local Government Units (PLGUs) of Antique and Iloilo, and various national government agencies convened on February 21 to 22 to finalize the Collaborative Provincial Agriculture and Fisheries Extension Program (CPAFEP) output and co-financing agreement at Casa Real, Iloilo City.
As embedded in the OneDA Reform Agenda key strategy, Province-led Agriculture and Fisheries Extension Systems (PAFES), provincial local government units (PLGUs) should craft their CPAFEP outputs based on the Provincial Commodity Investment Plan, Agri-Fishery Modernization Investment Plan, Local Development Plans and Rapid Appraisal results.
Hana Lindo of Antique's Office of the Provincial Agriculturist (OPA) presented the draft CPAFEP output about their abaca industry investment plan. The PLGU Antique proposed interventions to boost nursery establishment, incentivizing farmers who plant abaca, providing updated market information, training on fiber extraction, grading and classification, and strengthening the Farmer Cooperatives and Associations involved in abaca farming.
On the other hand, Dr. Mitchelene Resano of OPA Iloilo relayed that the provincial government is requesting support to establish a multiplier farm/sugarcane nursery to intensify the centrifugal and muscovado sugar production. They also seek funds to provide high-quality planting materials for their techno demo sites, conduct training on Good Agricultural Practices for sugarcane, Good Manufacturing Practices for muscovado, and soil test kits. They also request farm machinery, farm-to-mill roads, and other postharvest facilities.
Iloilo Provincial Agriculturist Dr. Ildefonso Toledo laid down their formulated CPAFEP for coconut. They seek aid for establishing coconut seed farms and nurseries, constructing farm-to-market roads, providing cargo hauling boats in coastal towns in Iloilo with coconut farms, agricultural tramline, production inputs, harvesting equipment, value-adding facilities, and insurance program.
DA Regional Technical Working Group, Department of Trade and Industry, Philippine Crop Insurance Corporation, Philippine Fiber Development Authority, Sugar Regulatory Administration, Philippine Coconut Authority, West Visayas State University, and University of Antique representatives attended the recent finalization workshop.
During the two-day event, PAFES Team also tackled updates on Farm and Fisheries Clustering and Consolidation (F2C2) Program, Provincial Commodity Investment Plans (PCIP), and Value Chain Analysis on key commodities.### By Sheila Mae H. Toreno/DA-RAFIS 6