DA PhilRice rolls out RCEF seed distribution in Aklan for 2023 wet season
Posted by: RAFIS DA6 | Posted at: April 20, 2023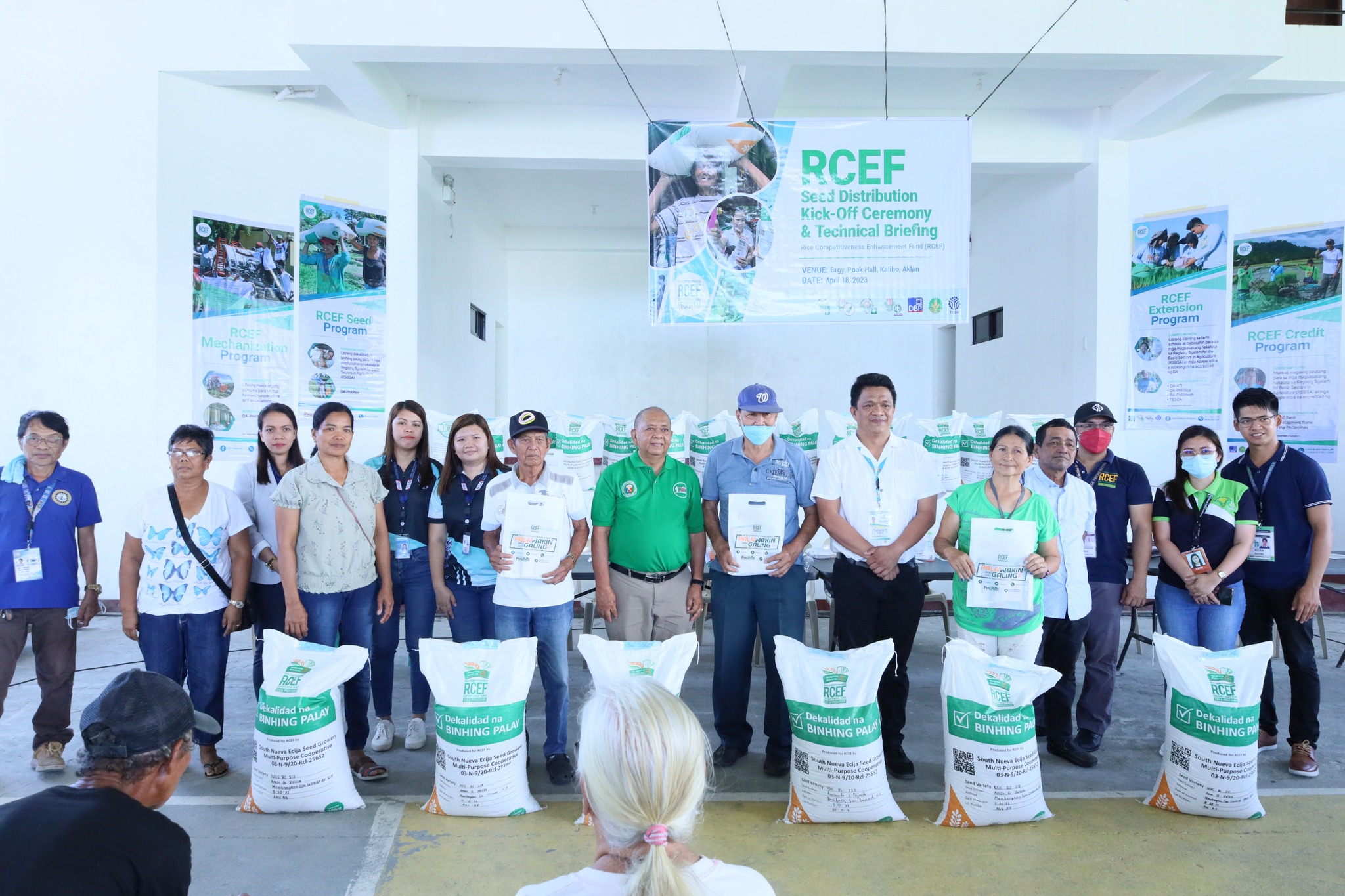 Farmers in Aklan can now start planting palay for wet cropping season with the kick-off delivery and distribution of certified inbred seeds under the Rice Competitiveness Enhancement Fund (RCEF) on April 18 at Brgy. Pook, Kalibo, Aklan.
A total of 27,300 Aklan farmers listed in the Registry System for Basic Sectors in Agriculture (RSBSA) will benefit from the 31,976 bags of certified inbred seeds weighing 20 kilograms per bag. This planting season, the Department of Agriculture – Philippine Rice Research Institute (PhilRice) allocated the seed subsidy to cover 14,742 hectares of rainfed and irrigated rice lands throughout the province.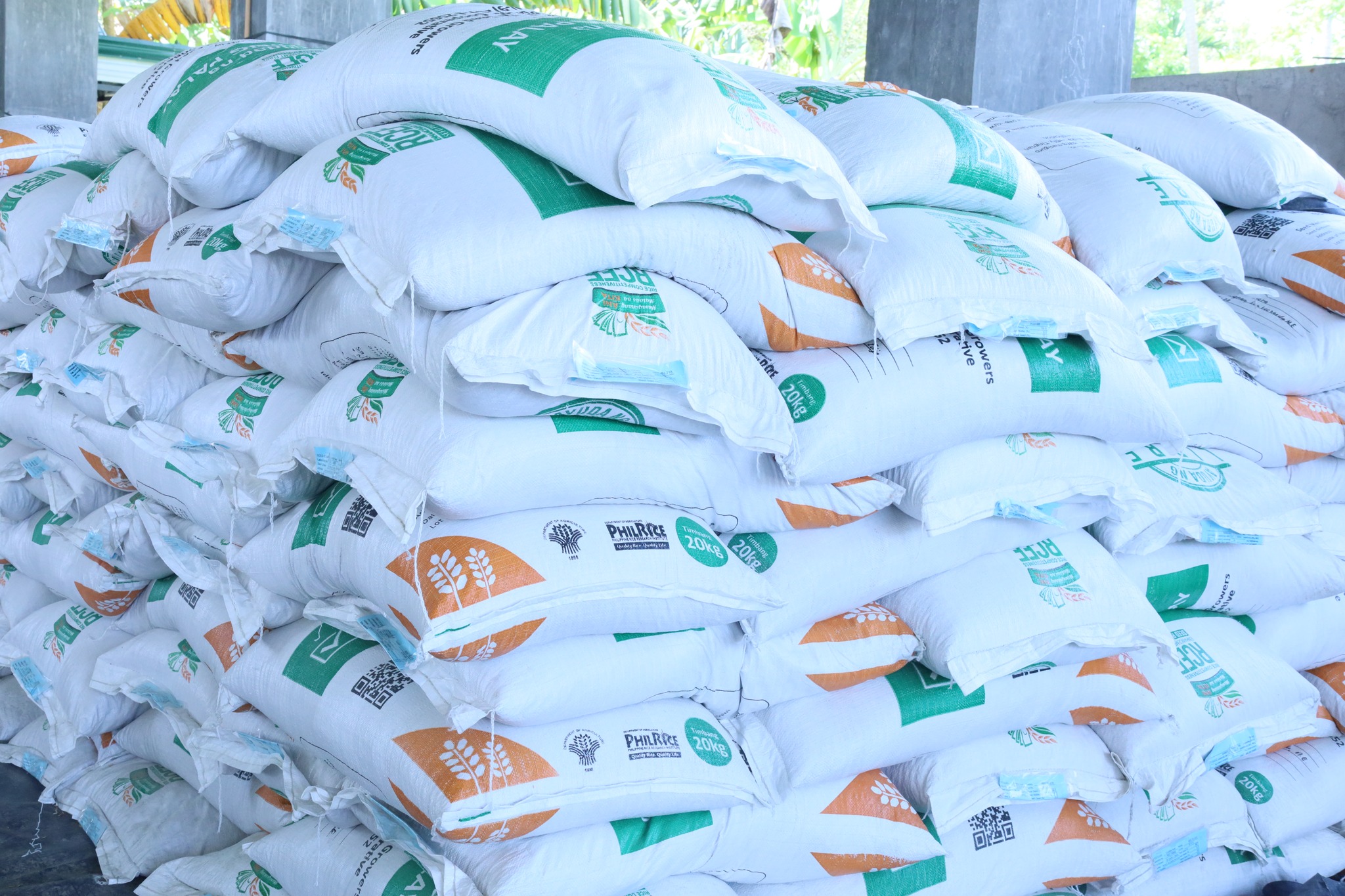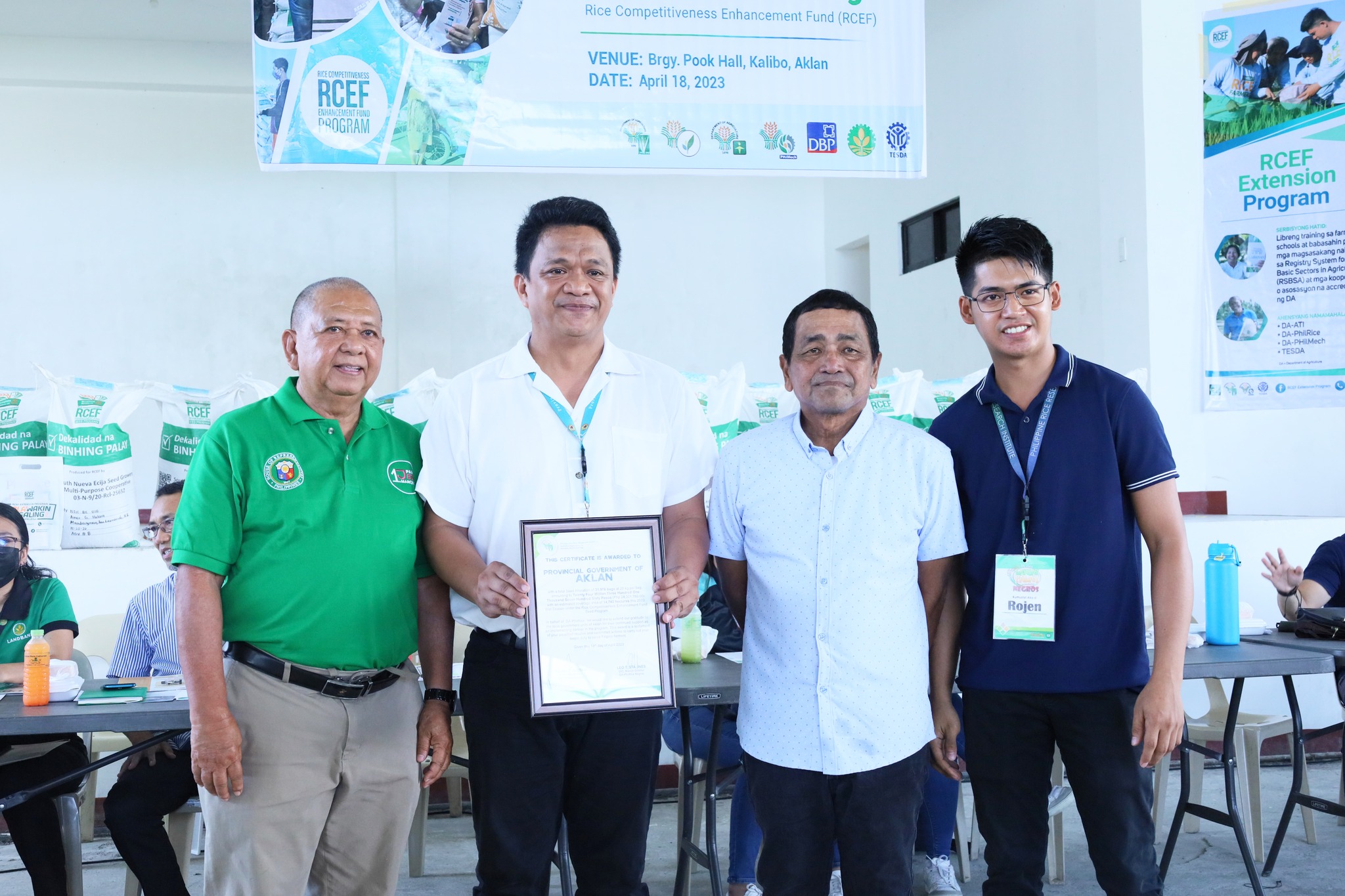 In Kalibo, 1,815 rice farmers have claimed 2,126 bags of inbred seeds bound for cultivation in the 980-hectare farm. Rice farmers from Ibajay and Altavas have the highest allocation of about 3,05 4 and 3,019 bags, respectively.
DA-PhilRice Negros works closely with the Provincial and Municipal Agriculture Offices to expedite distribution and ensure delivery before the planting season begins.
According to Rojen F. Austria, DA-PhilRice Negros RCEF Coordinator, the institute develops strategies to improve and speed up the seed distribution system. Meanwhile, they are pilot-testing the Binhi e-padala program, a digital approach to seed distribution, in select areas.
"Aside from the seed distribution, we also brought technical experts from the different agencies to present their programs and accomplishments under the RCEF seed program and clarify some common concerns of the farmers availing the services under the program," he said.
RSBSA-listed farmers will have access to high-yielding inbred seeds. These seeds, which include the NSIC Rc 222, NSIC Rc 216, NSIC 480, and PSB Rc10, are expected to increase harvests while lowering rice production costs. PhilRice will provide qualified farmers with one bag of inbred seeds weighing 20 kilograms each, with the institute providing one bag for every half hectare of farmland.
Meanwhile, PhilRice Negros Assistant Branch Director Albert Christian Suñer briefed farmer-participants on how adopting integrated nutrient management practices optimizes rice production volume and yield while reducing production costs and increasing farmers' net income.
Suñer encouraged rice farmers to determine the nutrients and quantity needed to avoid fertilizer over or underapplication, which may only lead to low palay output. "By using decision support tools like Leaf Color Chart, Minus One Element Technique, and Rice Crop Manager Advisory Service, farmers would know the right element, amount, and timing in fertilizer application."
He also explained the Abonong Swak Campaign, a balanced fertilization strategy that allows farmers to save P2,000 to P4,000 per hectare using any of the three organic and inorganic fertilizer combinations.
On the other hand, Philippine Center for Postharvest Development and Mechanization (PhilMech) Aklan coordinator Kath Casiano relayed that they have already granted RCEF farm machinery and equipment to four farmers' groups in Kalibo town. Rice farmer members of the Tigayon Irrigators Association, Pook Farmers Association, Linapuan Farmers Association, and Nalook Farmers Association have already availed of P20-million farm machinery and equipment under the program.
Casiano told other farmers' associations to avail themselves of the different farm machinery for land preparation, including four-wheel drive tractors, hand tractors, and floating tiller; rice precision seeder, riding type and walk behind type transplanters for crop establishment; and rice reaper and rice combine harvester for harvesting.
"A farmers association should have at least 50 hectares of the service area to qualify for the machinery interventions. Submit a letter of intent, board resolution, list of machinery and members, and an accreditation certificate from the DA," she added.
Phama Lea Rarama of the Technical Education and Skills Development Authority (TESDA) Aklan Provincial Office invited farmers to participate in the RCEF Farmer Field School (FFS) on high-quality inbred rice production, seeds certification, and farm mechanization, which are being conducted in seven accredited farm schools in Aklan. Interested rice farmers could avail of the RCEF FFS scholarship program at Meliton Integrated Organic Farm in Banga, William Maxelma Sustainable Organic Garden, Provincial Training Center of TESDA in Numancia, Golden Harvest Farm in New Washington, Lezo MPC Farm and Garden, JBS Integrated Farm in Libacao, JLS Agricultural Integrated Farm in New Washington.
Land Bank of the Philippines Aklan Department Manager Bernardo V. Moises laid down the procedures and requirements for smallholder rice farmers when availing of the Expanded Rice Credit Assistance under the RCEF with minimal interest rates and collateral requirements.
The ceremonial kick-off distribution of RCEF seeds for 2023 wet season in Aklan was also graced by PhilRice Negros OIC Branch Director Leo T. Sta. Ines, PhilRice Supervising Science Research Specialist Rene Valdez, Aklan Provincial Agriculturist Engr. Alexys Apolonio, and Sangguniang Bayan Committee Chairperson on Agriculture Christine C. Dela Cruz.
Apolonio assured PhilRice of the LGU support to hasten the delivery and distribution of RCEF seeds and other agricultural projects from the national government to level up the rice self-sufficiency level of Aklan, which is 85.79 percent in 2022. "RCEF is a government program that seeks to capacitate rice growers in increasing their production and income. We have to give farmers what they deserve."
DA advised farmers who have already received seed support to plant early this wet season (March 16 to September 15) in preparation for the El Niño phenomenon projected to occur last quarter of the year. ###By Sheila Mae H. Toreno/DA-RAFIS 6