DA, DILG launch HAPAG KAY PBBM agri program in Pavia, Iloilo
Posted by: RAFIS DA6 | Posted at: April 4, 2023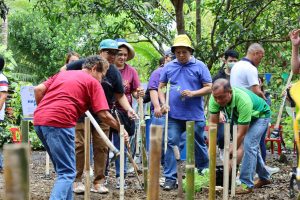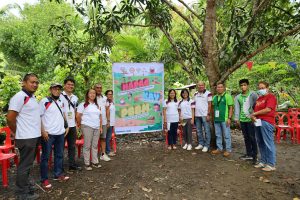 To strengthen the capacities of barangays toward sustainable agriculture, the Department of Agriculture (DA)-Western Visayas and the Department of Interior and Local Government (DILG) launched the Halina't Magtanim ng Prutas at Gulay (HAPAG) Kadiwa Ay Yaman (KAY) Plants for Bountiful Barangays Movement (PBBM) urban farming program in Brgy. Balabag, Pavia, Iloilo on March 1.
The HAPAG KAY PBBM is a program that merges the DA's Green Revolution Program 2.0: Plants for Bountiful Barangays Movement and DILG's HAPAG sa Barangay Project.
This newly launched program aims to boost sustainable farming in the barangays as well as to motivate LGUs to support urban farming as a measure to reduce poverty.
Likewise, the program seeks to foster cooperation in the communities and conserve the environment through eco-friendly farming practices.
As a pilot area for the Western Visayas, Brgy. Balabag, Pavia established the HAPAG KAY PBBM area in their Barangay Ecological Park.
Punong Barangay Helen Maquiling said that food sufficiency is one of the top priorities for the barangay. She is thankful that Brgy. Balabag was chosen as the pilot area in the province of Iloilo and in the region.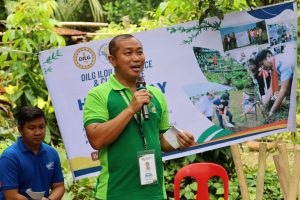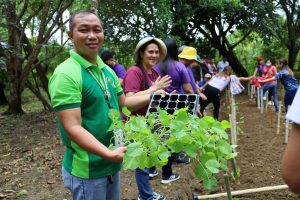 Furthermore, she emphasized that the establishment of the Barangay Ecological Park shows their effort in uplifting the agriculture sector at the barangay level. With the help of the HAPAG KAY PBBM Program, Maquiling believes that their hard work toward food security will not be in vain.
Meanwhile, DAWV's High-Value Crops Development Program and National Urban and Peri-Urban Agriculture Program Regional Coordinator Jonifer Frades said that the department hopes to revive the Gulayan sa Barangay program through the HAPAG KAY PBBM.
He also expressed his gratitude to DILG for their strong support in the implementation of this collaborative program.
As a start-up kit, the Barangay Balabag received 2 units of 200-liter capacity drums, 10 pieces of shovels, 10 pieces rakes, 10 pieces of hoes, 10 pieces of sprinklers, and assorted packs of vegetable seeds.
Pursuant to Memorandum Circular (MC) No. 2023-001 of DILG, a community garden shall be established in the available site to be determined by the barangay. Also, barangays with suitable spaces are encouraged to plant bamboo.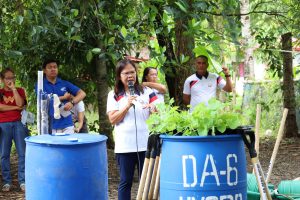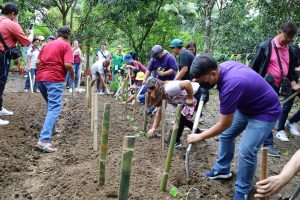 However, for barangays that do not have vacant areas, container and vertical gardening, hydroponics, aquaponics, and aeroponics are advised.
Present during the launching are Pavia's Chairman on Committee on Agriculture Roy Gorriceta, DILG-Iloilo Cluster 1 Head Maria Fatima R. Daez, and Pavia OIC – Municipal Agricultural Officer Phil Rolando Cabrera. ###By Aileen Joy M. Subade/DA-RAFIS 6