Climate-resilient tech set to alleviate potable water shortage in Concepcion, Iloilo
Posted by: RAFIS DA6 | Posted at: July 7, 2023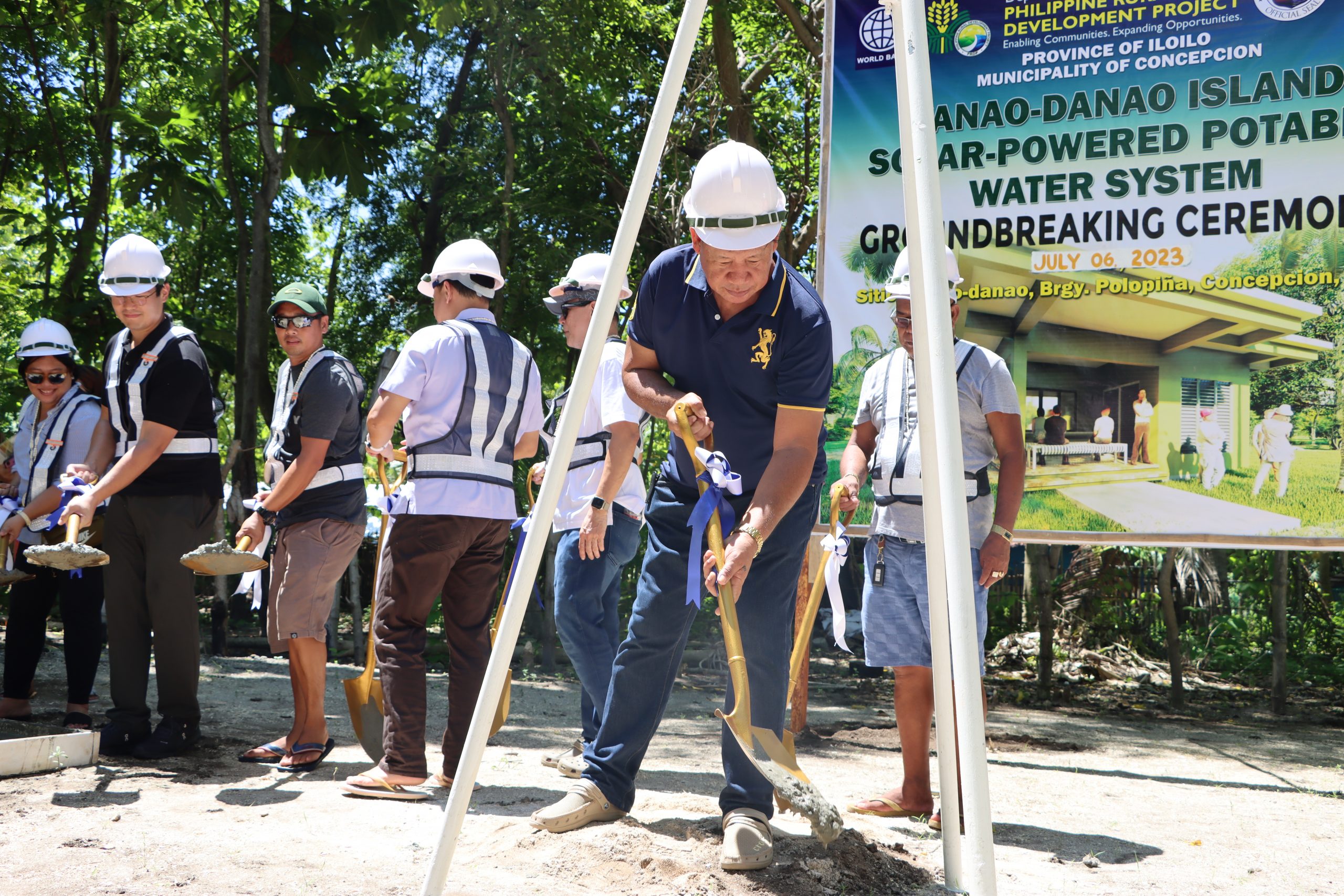 Enduring the lingering hurdle for safe and stable supply of potable water, residents from the island of Danao-danao are seen to get hold of the long-awaited modern and climate resilient Danao-danao Island Solar-Powered Potable Water System as its construction has set sail and was formally unveiled to the public during the Ceremonial Groundbreaking on the sands of Badiango Resort, Polopiña, Concepcion, Iloilo on July 6, 2023.
Comprising the structure is a 40.32 square-meter-water treatment building holding the 16 cubic-meter-tank and a potable water refilling station to be ran with a solar-power package of 36 panels. Its capacity extends to 16, 200 watts coupled with 10 kilowatts inverter and two (2) modules of lithium battery bank which will help secure a significant 11, 000 liters per day.
Meanwhile, to address the foreseen hiccup on the operation on the event of persistent absence of insolation to power the technology due to inclement weather, the contract includes a diesel-activated generator set ensuring the continued function of the facility. This renewable-energy-powered technology will be of use to the 854 residents of Sitio Danao-danao by the first month of 2024 at length.
At most, residents are recorded to spend an estimated amount of Php300 per week on drinking water sourced from the town center. With the anticipated completion of the facility, a 50.74% reduction on water expenses is expected easing the financial strain on families in the island.
Barangay Polopiña Kagawad, Concepcion Hebra affirmed that the project would be of great help to her constituents who have been in a long struggle to grind for safe water supply which by all means essential for the overall wellness of their community.
"Sang una nga panahon, nagabugsay pa kami pakadto sa pihak nga pulo agud magbakal sang tubig nga pagadal-on naman diri sa pihak nga isla. Pero kon matigayon ini nga proyekto, dako gid nga pasalamat kay dako ini nga blessing sa mga pumuluyo sang Sitio Danao-danao kay indi na kami mabudlayan pa," said Hebra. [Before, we had to paddle our way to the neighboring island to get our water. But if the project would be completed, we will be grateful as this is a great blessing to the residents of Sitio Danao-danao not having to go through the hassles any further.] Moreover, Provincial Governor Arthur Defensor Jr. acknowledged that the system is particularly feasible now that we are confronted by the shifts with our climate condition and this is a way to be one with the move to alleviate the manifestation of such phenomenon.
This green project is a way forward appeasing the toil of the residents in the far-flung island of Danao-danao and particularly upholds the aims of the Philippine Rural Development Project (PRDP) in support of the fisherfolks in the rural areas of our country.###By Eunice L. Gregorio/DA-PRDP RPCO 6 InfoACE