ASF prevention is Antique ProVet, MAs top priority
Posted by: RAFIS DA6 | Posted at: April 4, 2023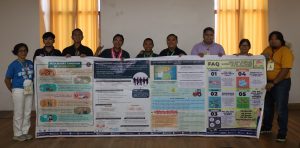 Recognizing the fast movement of the African Swine Fever (ASF) virus affecting already the neighboring provinces, the Antique Provincial Veterinary Office (ProVet) convened all Municipal Agriculturists for a consultative meeting on February 25, 2023, at Antique Provincial Capitol.
"We need to protect our swine industry. Isa ini sa mga importante nga pangabuhian sang mga Antiqueῆo. We have invited the Dr. Jonic Natividad to give us the update on ASF. This gathering is crucial para ma-assert natun ang mga activities para indi gid makasulod ang ASF diri sa atun", said Provincial Veterinarian Dr. Florencio Macuja.
Governor Rhodora Cadiao and Vice Governor Edgar Denosta joined and stayed the entire presentation time to listen and ask questions to better understand ASF and align interventions that the provincial government has to take.
"Nakita ninyo ang importansya sang gina-istoyahan natun diri. Kung magsulod na ang ASF diri sa Antique indi na ina natun mapunggan, wala liwan nga naagyan kita sang COVID, Dengue, kag madamu pa nga kalamidad. Ang akon ginapanumdum ang atun mga hog raisers. Indi natun pag-i-underestimate ang pangabuhian sang small hog raisers kag ang kapirdihan nga pwede matabo sa ila", said Governor Cadiao.
Governor Cadiao expressed her worries that the province may get the stigma once affected by ASF; as this will also affect the tourism industry and their bid to be the venue for the Palarong Pambansa this year.
"Ang importante gid nga gabayan natun sila [hog raisers]. Educate them about better disinfection practices and monitor restaurants to buy only pork meat here in Antique. Striktuhan ang border checkpoints in Hamtic, Anini-y, San Remegio, and all borders. I am putting my trust in all of you", she added.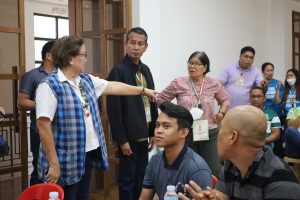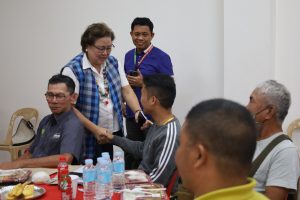 Meanwhile, Vice Governor Denosta assures the group of the support to any legislation that they may need to reinforce important initiatives to maintain the province as ASF Free. Since 2019, the provincial government has passed and issued more than five ordinances and executive orders ensuring strict quarantine and border control measures. To date, nine municipalities have adopted the provincial ordinances 2020-242 and 2020-229 imposing checkpoints and prohibiting the entry of pork meat and all related pork products to the province.
Moreover, the Sanguniang Panlalawigan has recently passed the Provincial Ordinance 2023-365, an ordinance adopting the implementation of the Department of Agriculture's Bantay ASF sa Barangay or BaBAY ASF Program in the Province of Antique authored by Vice Governor Denosta.
An update on the hog situation in Western Visayas and lessons learned during the actual ASF control in Iloilo was shared by Dr. Jonic Natividad, Division Chief of DA-WV Regulatory Division and Regional Focal Person for ASF Task Force.
"More than presenting your accomplishment in preventing ASF, we have to understand deeper our enemy [the ASF virus], you have to know the real scenarios to be ready. Go directly to hog raisers to assist them and let them understand ASF", emphasized Dr. Natividad.
He encouraged all the Municipal Agriculturists and Agri Technicians to start activating their Barangay ASF Task Force. ASF cases will exhaust the resources of the provincial and municipal governments, thus, the participation of the people in the Barangay will be crucial.
Dr. Natividad shared the recommendations of the agency in handling this ASF concern- LGUs must continuously campaign against ASF and the immediate reporting; there must be full implementation of approved LGU ordinances and policies; intensify IEC activities; surveillances at slaughterhouses; regular biosecurity audit to all existing farms; allocation of insurance /monetary assistance to farmers; involve hog raisers' associations and private sectors; and regulate, control, prevent hog carries from ASF affected areas to enter the ASF-free zones.
Before the consultative meeting ended, MAs expressed their commitment to make ASF on top of their priorities and to strengthen the monitoring of pork-processed products in public markets and stalls as well as those sold online. ###By Maria Corazon M. Buala/DA-RAFIS 6
Photos by: Jerem V. De Guzman/DA-RAFIS 6