Aklan State University community teleradio starts online broadcast with DA Western Visayas funding
Posted by: RAFIS DA6 | Posted at: September 20, 2023

To restore and enhance the operations of the DYMT Multimedia-based Community TeleRadio through online broadcasting, the Department of Agriculture (DA) Western Visayas granted P2.42-million funds to Aklan State University (ASU) Main Campus in Banga to expand its extension support and development services.
ASU President Dr. Emily Arangote, said during the launching of the community teleradio on September 19, DA Western Visayas through the initiative of former Regional Executive Director now the Agricultural Training Institute National Director Remelyn Recoter has created a strategic venue for the university to showcase their best practices in agriculture and fisheries, agricultural innovations, research, extension, and other development collaborations with government agencies.
"Reviving DYMT community radio using webpage platform instead of terrestrial broadcasting format supports our effort and that of the Department of Agriculture's initiative towards digitization," said Dr. Arangote.
According to DA Regional Information Officer James Earl Ogatis, the department through the Regional Rice Program allocated P4,980,000.00 budget for the upgrading of community radio stations in two State Universities and Colleges (SUCs) and in one local government in Western Visayas. Apart from ASU, the West Visayas State University Main Campus in La Paz, Iloilo City and Nutri Eskwela Radio Station of the Local Government Unit of Sibalom, Antique obtained P960,000.00 and P1.6-million financial grant, respectively.
"The launching of this multimedia community radio here in ASU will strengthen our collaboration with the SUCs, local government units, and farmers cooperatives and associations. Radio still remains the best source of information for farmers, fisherfolk and livestock raisers. Through this community radio, we are hopeful that we could communicate DA's call for clustering and consolidation to enable better economies of scale in service delivery to wider communities of farmers," he said.
Aside from broadcast contents to be produced by DYMT led by Station Manager Dr. Nenia Bohulano and Project Leader Juvy Casimero, canned materials from DA-WV as well as interview guesting with the representatives from Aklan's Office of the Provincial Agriculturist, Municipal Agriculture Offices, and DA's attached bureaus and line agencies will form part of the regular programming.
Casimero's proposal on establishing an inter-school broadcasting laboratory in ASU was approved for funding by the DA in September 2022, which signaled the revival of the community radio station airing, which was halted in 2013 due to Super Typhoon Yolanda damages.
"We revised the proposal to align to the development agenda of the DA and as per advice of Dr. Arangote, we improved the proposal to include flexible learning modalities," he said.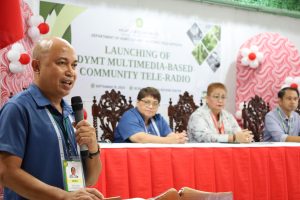 Furthermore, ASU Campus Director Michael Ibisate said "this community teleradio would act as a beacon of knowledge, a repository of ideas, and a catalyst for positive change. It would offer greater access to academic pursuits and encourage community participation in shaping the region's future to inspire dialogue, encourage collaboration and foster a spirit of continuous learning."###Texts by Sheila Mae H. Toreno and Photos by Jerem V. De Guzman/DA-RAFIS 6