WV agri-fishery priorities emphasized in Dagyaw Townhall meeting
Posted by: RAFIS DA6 | Posted at: September 1, 2023

Representatives from the Department of Agriculture (DA) Western Visayas and DA-Bureau of Fisheries and Aquatic Resources (BFAR) tackled the government interventions addressing primary concerns in agriculture and fisheries during the second episode of the Dagyaw Open Government Townhall meeting on August 31 at SM City, Iloilo.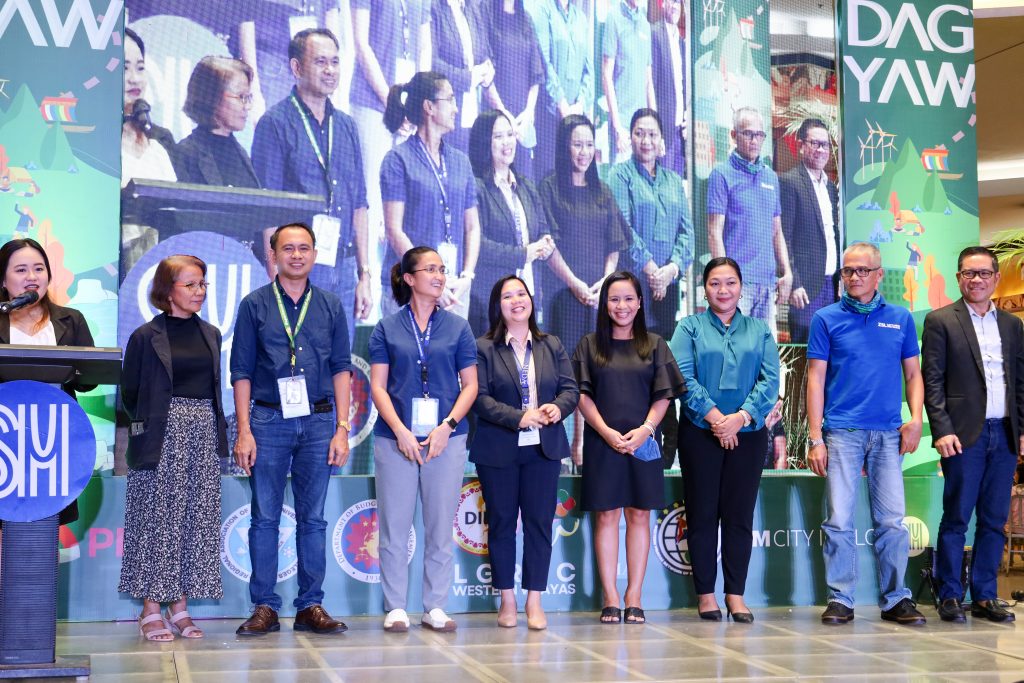 In relation to the event's theme "Pagpasanyog sang agrikultura kag pangabuhian padulong sa kauswagan," James Earl E. Ogatis, Regional Information Officer of DA discussed the department's programs and initiatives that aim to improve farm income, generate job opportunities, and implement policies that cater to the farmers' needs through a bottom-up, self-reliant farming system approach.
Ogatis states that farmers enlisted in RSBSA are given priority for the supply of seeds, fertilizers, machinery, and animal stocks. The RSBSA has already registered 1,141,092 farmers, farmworkers, fisherfolk, and agri-youths in Region 6.
In addition to input subsidies, DA assists farmers by conducting training on production, value-adding, and organizational management of FCAs. He noted that DA is promoting the clustering of farmers to achieve better economies of scale and project sustainability.
Ogatis, who served as the resource person in the recent Town Hall meeting, highlighted the DA's measures to alleviate El Niño's impact on crop and animal production. The agency had also positioned buffer stocks for rice and corn seeds and procured mungbean and vegetable seeds as alternative crops that farmers could plant during a long drought.
Through the help of the local government units (LGUs), DA monitors prevailing retail prices of basic agricultural commodities in the different provinces and ensures that these prices conform to the policies of the Local Price Coordinating Council.
In addition, the department seeks assistance from local farmer technicians to intensify surveillance and monitoring of major pests and diseases that impact palay and corn crops.
In response to the African Swine Fever (ASF) cases in the region, the DA Western Visayas has aided affected LGUs with technical and logistical support for disinfection, testing, and containment measures. Repopulation and recovery programs are also underway.
During the panel discussion, Jessica Esmao, the Chief of BFAR 6 Fisheries Training and Fisherfolk Coordination Division, shared that the bureau is focusing on improving aquaculture technology as a key strategy in their sustainable resource management to combat climate change.
BFAR ramps up campaigns against illegal fishing in municipal waters and supports fisherfolk with seedlings and inputs for sustainable marine production.
The Dagyaw Open Government Town Hall meeting, spearheaded by the Department of the Interior and Local Government and the Philippine Information Agency, also served as an avenue for the different agencies—Department of Agrarian Reform, National Economic Development Authority, and Department of Trade and Industry as well as the Magsasaka at Siyentipiko para sa Pag-unlad ng Agrikultura, Inc. and Zoological Society of London to provide updates regarding their respective policies and programs advantageous to the agriculture and fishery stakeholders.###By Sheila Mae H. Toreno/DA-RAFIS 6