Posted by: RAFIS DA6 | Posted at: February 17, 2023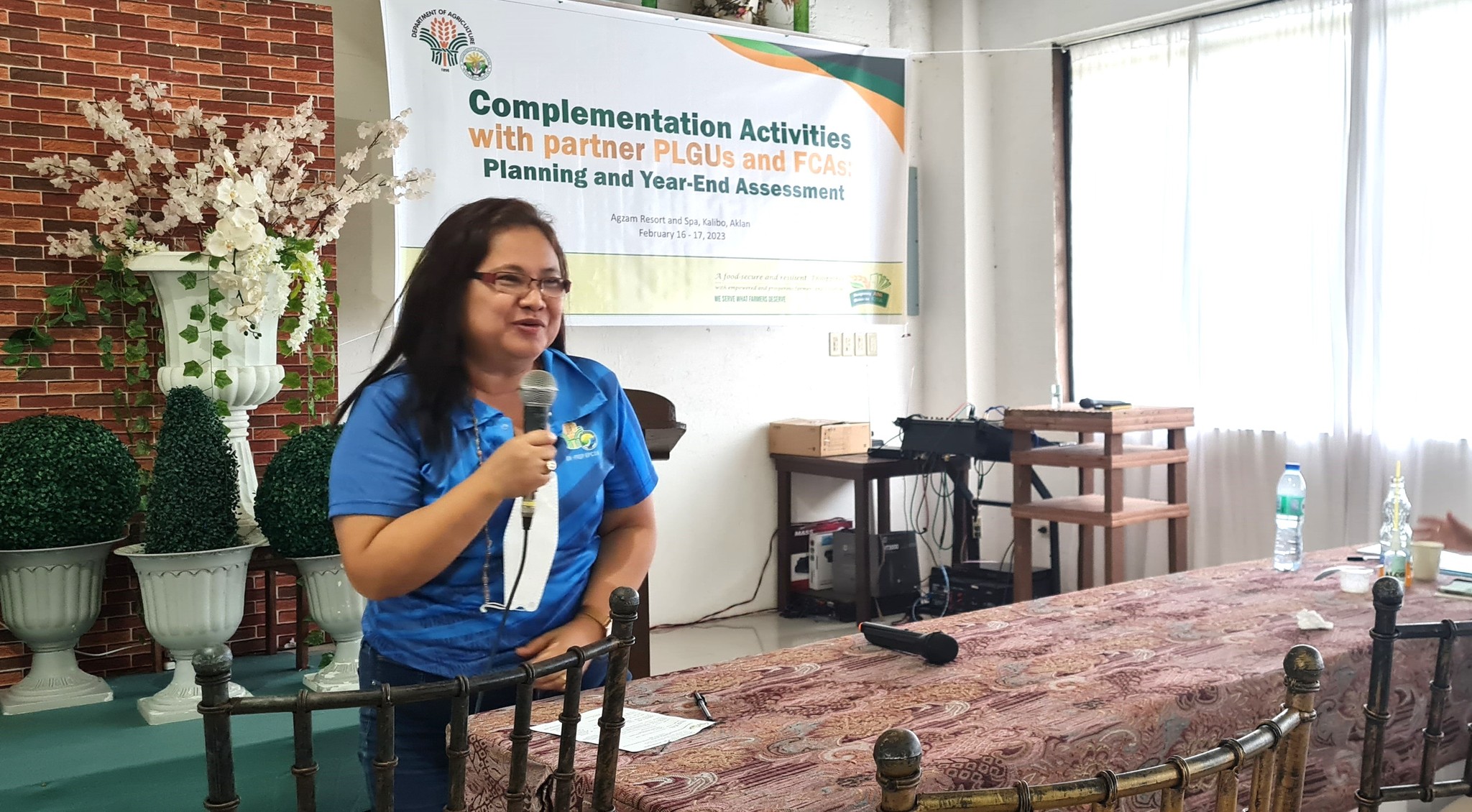 The Department of Agriculture-Western Visayas' (DA-WV) Agribusiness and Marketing Assistance Division (AMAD) holds a two-day complementation activity with the Provincial Local Government Units (PLGU) in Kalibo, Aklan, February 16 to 17.
To maintain a strong collaboration between AMAD and provincial LGUs, a complementation activity is conducted to discuss the regular programs of the agribusiness and assistance office. This includes the presentation of the possible revisions in the implementing guidelines of lead activities such as the Young Farmers Challenge and KADIWA grants.
AMAD's Senior Agriculturist Rhea Cristina Resol said that the possible revisions in the implementing guidelines of the Enhanced KADIWA Financial Grant can make the program more accessible to interested Farmers' Cooperatives and Associations (FCA).
She also encouraged the provincial coordinators to help DA in the Civil Society Organization (CSO) Accreditation of various FCAs in the region. Resol added that the accreditation of the FCAs is important since it is one of the goals of the department.
"With DA-AMAD, a time may come that we can no longer transfer funds for marketing assistance to the FCAs or LGUs without the CSO accreditation that is why we are campaigning for this, and through your help, we can reach more FCAs that are beyond the reach of the regional office," she emphasized.
Meanwhile, Karen L. Mijares, Agriculturist II of DA-AMAD presented the possible revisions on the implementing guidelines of the Young Farmers Challenge (YFC) for 2023. Aside from the YFC Start-Up, the AMAD will be launching the YFC Upscale. This is a competition for the Young Farmers Challenge Provincial Level Awardees of 2021 and 2022.
Mijares added that the YFC Upscale competition is a great venue for all provincial winners who continued to improve their products and services even after failing to secure spots at the regional level. The national winner may receive up to P1-million financial grant.
This year's Young Farmers Challenge will start on March 2023.
On the other hand, AMAD Supervising Agriculturist May Ann Grajo thanked all the provincial coordinators for helping the department disseminate information on AMAD's programs and projects.
"We appreciate the efforts of our partners in the LGU for initiating activities for marketing," added Grajo. She also said that through this activity, they were able to enhance and improve the programs for the clients especially for the farmers and fisherfolk. ###By Aileen Joy M. Subade/DA-RAFIS 6